Search results
Full Circle Market Oat Beverage, Non-Dairy, Original - 0.5 Gallon , $3.99
In season year round. Our Story: We believe in pairing the simple goodness of nature with delicious, market-inspired flavors and delivering that quality to your neighborhood grocer. With Full Circle Market, better choices and affordable prices are always In Season Year Round. Our Oat Beverage: Rich, creamy with essential vitamins and minerals, our oat beverage is the perfect lactose free option for smoothies, shakes, over cereal or when you bake. It's a delicious way to enjoy goodness guilt free. No preservatives. Please recycle.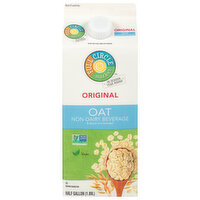 Full Circle Market Oat Beverage, Non-Dairy, Original - 0.5 Gallon
Open Product Description
Califia Farms Oatmilk, Barista Blend - 32 Fluid ounce , $5.19
Barista's choice. Steams remarkably. Steam ready. Foams well. Pronounced cal-uh-fee-ahh. Just like our California home, we're named after the legend of Queen Califia. For the professionals and the at-home baristas. Oat barista blend makes everything creamier. Froth it. Steam it. Or pour it straight. Plant-based lattes for all! Some sugars are created in the process of making oat milk. Carrageenan free. Please recycle. FSC: Mix - Board from responsible sources. www.fsc.org.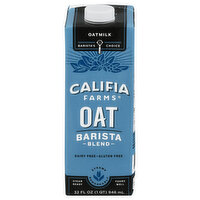 Califia Farms Oatmilk, Barista Blend - 32 Fluid ounce
Open Product Description