Search results
Nature Made Turmeric Curcumin, Capsules - 120 Each , $30.99
Herbal Supplement. List No. 3006. L400. No artificial flavors. Gluten free. No. 1 pharmacist recommended. With standardized extract. Provides antioxidant benefits. Turmeric (Curcuma Longa) is an ancient Indian spice. The Curcumin in Turmeric has antioxidant activity and is responsible for its vibrant yellow color. Made to our guaranteed purity and potency standards. No color added. No preservatives. www.NatureMade.com. (This statements has not been evaluated by the Food and Drug Administration. This product is not intended to diagnose, treat, cure, or prevent any disease.) Encapsulated and quality tested in the USA.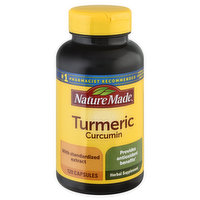 Nature Made Turmeric Curcumin, Capsules - 120 Each
Open Product Description
Vitafusion Gummy Vitamins, Elderberry, Natural Berry Flavor - 90 Each , $14.99
New look. 225 mg juice (from concentrate) per serving. With Vitamins C & D for immune support. 6x elderberry fruit equivalent (elderberry ingredients equals 6 berries compared to Vitafusion). No 1 America's gummy vitamin brand. Combines vitamins C&D for immune support with 225 mg of elderberry juice from concentrate per serving. For centuries, this small berry from the European black elder plant has been traditionally used to support the immune system. All this a delicious natural berry flavor! No synthetic FD&C dyes. Made with 100% certified renewable energy. Green-e. Growing communities with fruitful planting. We believe in holistic wellness and realize it's more than just taking vitamins. That's why we support the Fruit Tree Planting Foundation and together have planted more than 200,000 fruit trees in underserved communities. Join our mission vitafusion.com.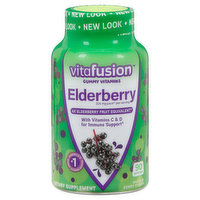 Vitafusion Gummy Vitamins, Elderberry, Natural Berry Flavor - 90 Each
Open Product Description