Search results
Bob Evans 100% Liquid Egg Whites - 16 Ounce , $3.59
Eating food that is a good source of protein will keep you feeling fuller longer. Bob Evans Liquid Egg Whites are a trusted lean protein, each serving provides 5 gms of protein and only 25 calories. What's more, these are made of only one , single and clean ingredient -egg whites, so you can be assured of 100% pure goodness. A cholesterol and fat free meal ; ready in minutes to perfectly suit an active lifestyle. Bob Evans Liquid Egg Whites are delicious scrambled, as an omelette, tasty protein smoothie, cakes, cookies and french toasts as well. Egg On!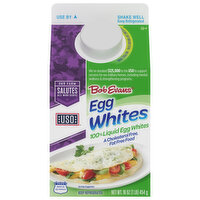 Bob Evans 100% Liquid Egg Whites - 16 Ounce
Open Product Description
Egg Beaters Egg Beaters Southwestern Style 16 oz. - 15 Ounce , $3.99
This carton is equivalent to 9 large eggs. Made with egg whites and has the vitamins & minerals - of a shell egg. Pasteurized.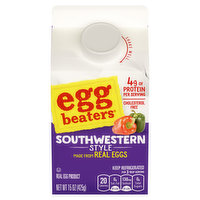 Egg Beaters Egg Beaters Southwestern Style 16 oz. - 15 Ounce
Open Product Description