Search results
90+ Cellars Rose, France - 750 Millilitre , $11.99
Lot 33. Story: This is a real deal Rose, not the sweet pink stuff. This wine is a blend of several classic grape varieties harvested from vineyards along the coast of the Mediterranean Sea and foothills of France's Cevennes mountains. The wine receives its light, rosy color from brief contact between the juice and skins prior to a long, cool fermentation. Taste: We love the color pink especially when its tastes like this! Aromas of ripe red cherries and strawberries fill the glass along with mild flavors of fresh, wild herbs, white pepper, and watermelon. It's an ideal choice for washing down small bites of prosciutto, marinated Mediterranean olives or crispy fried chicken. At 90+ Cellars we believe that occasion calls for a great wine. That's the philosophy behind every wine we bottle. Great wines at a great price. So you can enjoy them anytime.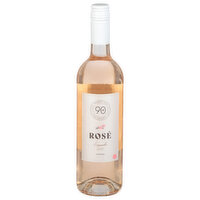 90+ Cellars Rose, France - 750 Millilitre
Open Product Description
Beringer White Merlot - 1.5 Litre , $9.99
Established 1876. Beringer Main & Vine, where everyone's welcome. Taste: Semi-dry. Notes: Ripe raspberry, watermelon, and floral notes with a touch of sweetness. Enjoy responsibly.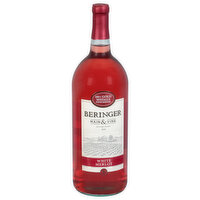 Beringer White Merlot - 1.5 Litre
Open Product Description