Search results
New York Bakery Cheese Sticks, 3-Cheese - 5 Each , $3.99
Bakes in 8-10 minutes. Stuffed. 3 real cheeses. Mozzarella. Cheddar. Parmesan. Our flavor comes from real Mozzarella, Cheddar and Parmesan. And of course, our great bread. - Don Penn (3rd Generation NYB Baker). Baked proud. Stuffed with real cheese. Baked from scratch. Our passion for breadmaking stretches back 90 years. Visit us at: www.nybakery.com. Questions or comments? 1-888-208-0797.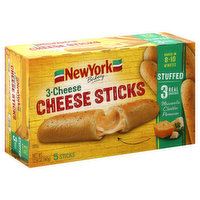 New York Bakery Cheese Sticks, 3-Cheese - 5 Each
Open Product Description
Brookshire's Bread Sticks, Cheese Stuffed - 5 Each , $3.49
Garlic bread sticks stuffed with mozzarella cheese. 5 sticks. Made with real garlic. Since 1928. If you're not happy, we're not happy. 100% satisfaction, 100% of the time, guaranteed! brookshires.com. Questions? Call us at 1-903-534-3000; brookshires.com.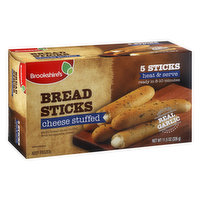 Brookshire's Bread Sticks, Cheese Stuffed - 5 Each
Open Product Description