Search results
Ferrero Rocher Chocolates - 24 Each , $14.99
The golden experience. Rocher chocolates are a tempting combination of luscious, creamy, chocolaty filling surrounding a whole hazelnut, within a delicate crisp wafer all enveloped in milk chocolate and finely chopped hazelnuts. www.FerreroRocherUsa.com. Facebook. Like us on facebook at Ferrero Rocher USA. Questions? Call 1-800-688-3552. Made in Canada.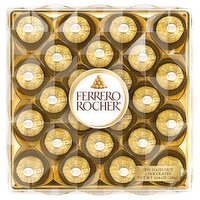 Ferrero Rocher Chocolates - 24 Each
Open Product Description
Reese's White Trees, Snack Size - 9.6 Ounce , $4.79
The holidays just got a lot sweeter with REESE'S white creme peanut butter trees candy. Whether you're filling candy dishes or stuffing a line of stockings, there's never been a better season to get lost in the taste of smooth peanut butter and decadent white creme of a REESE'S candy. 'Tis a time for spreading joy, and each tree-shaped white creme sweet in this bag provides a perfect helping of festive fun to treat the taste buds of your favorite candy lover on Christmas. Light in weight but heavy on flavor, these candy trees are sure to please anyone in need of a creamy pick-me-up. Remember to treat yourself too. Keep some REESE'S peanut butter trees candies on hand for your next Christmas movie marathon. And don't stop there! If you're feeling creative this holiday season, try putting whole or crumbled white creme peanut butter treats on top of your best cookies or brownies — anyone you share with will beg for your secret recipe after just one bite.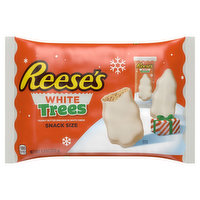 Reese's White Trees, Snack Size - 9.6 Ounce
Open Product Description