Search results
Concord Foods Coleslaw Mix, Original - 1.87 Ounce , $1.39
Just add cabbage & mayonnaise. Wake up your fresh fruits & vegetables! No artificial flavors, colors or preservatives. Delight your family and show your favorite fruits & vegetables some love with delicious and freshly made side dishes. For recipes visit: concordfreshsuccess.com.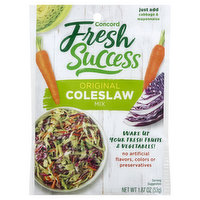 Concord Foods Coleslaw Mix, Original - 1.87 Ounce
Open Product Description
Marie's Dressing, Coleslaw - 12 Fluid ounce , $4.29
Made with real premium ingredients. Open for inspiration. Cajun shrimp. Ripe avocado. Marie's original coleslaw dressing. Spicy shrimp tacos. Cilantro, fresh lettuce. Flour tortillas.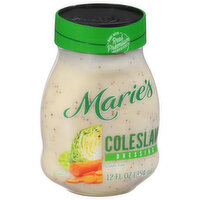 Marie's Dressing, Coleslaw - 12 Fluid ounce
Open Product Description